Ecology of Center City, Philadelphia
By Kenneth D. Frank
A trove of astonishing observations in natural history
Twenty-nine beautifully illustrated chapters offer revelations about the ecology of downtown Philadelphia. Combined, they present a surprising discovery: This inner city district is ecologically dynamic and resilient. The author draws on Philadelphia's unique legacy of scholarship in the field of natural history—spanning almost three centuries. A comparable exposition of the center of a major metropolitan area has never before been published.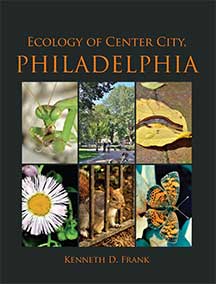 386 pages, 272 illustrations, most in full color
8.5 X 11 inches
Softcover
Published in 2015, online and in print
Print edition for sale (click to buy)
PDF free (scroll down for links)
May be freely reproduced, with attribution*
To order a full paperback edition click here
---
To download a free electronic copy (PDF) click below:
*This work is published under Creative Commons Attribution 4.0 International License.
---
Fitler Square Press  |  Inaugural Publication  |  About the author  |  Resources  |  Contact